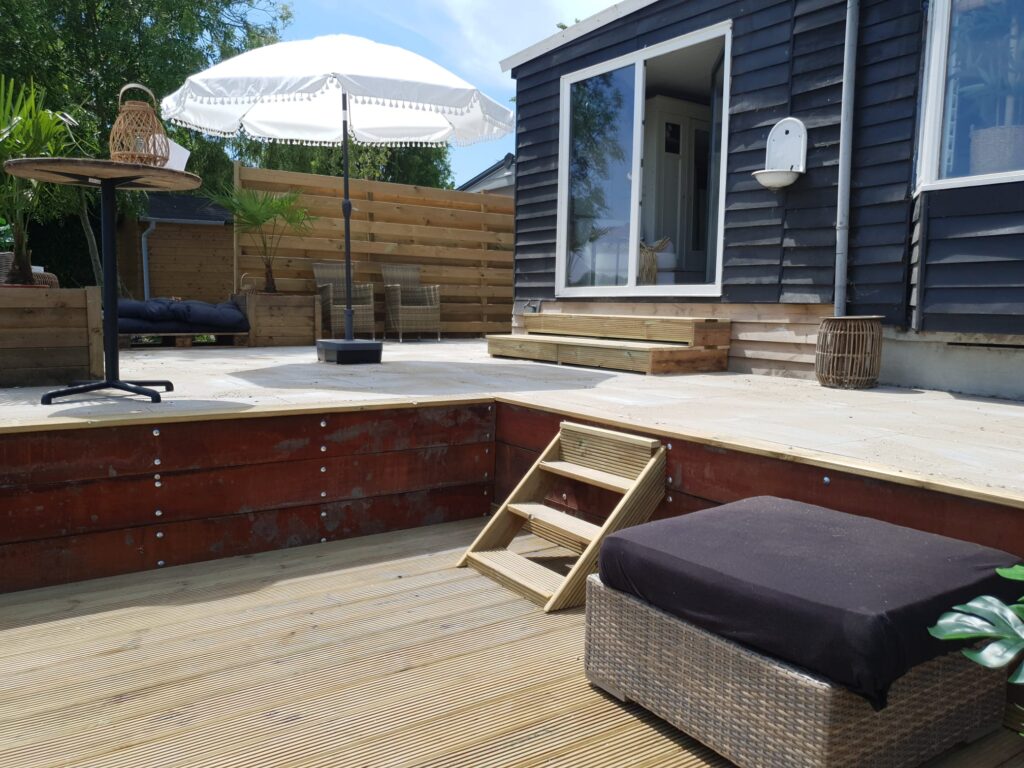 Vlonders en Beschoeiingen
Ruime ervaring in het aanleggen van vlonders en beschoeiingen. 
Wij helpen u met het gehele traject
Vlonders Voor het maken van een vlonder is de fundatie van belang.
Hiervoor gebruiken wij hardhouten palen en liggers.
Deze palen en liggers zijn geschikt om in de grond of net boven de grond te verwerken.
Deze materialen hebben een langdurig bestaan. 
Onder de planken van de vlonder verwerken wij worteldoek zodat u geen last krijgt van onkruid of dergelijke
Er zijn verschillende vlonderplanken die u kunt verwerken:
Hardhouten vlonderplanken
Grenen vlonderplanken
Composiet vlonderplanken
Beschoeiingen 
Wij maken ook beschoeiingen.
Hierbij maken wij gebruikt van hardhouten palen en hardhouten beschoeiingsdelen. Dit om een langdurig bestaan te garanderen. Tevens word de gehele beschoeiing verankerd door middel van rvs trekstangen. 
Een beschoeiing kan bestaan uit beschoeiingspalen die horizontaal worden vastgezet aan hardhouten palen die om de 50 cm in de grond worden gedrukt door middel van een kraan of luchthamer.
U kunt ook kiezen voor een beschoeiing van damwand mes en groef deze planken worden door middel van een kraan de grond in gedrukt en aan elkaar gekoppeld door mes en groef.
Deze damwand beschoeiing wordt vervolgens afgewerkt met een hardhouten balk aan de waterkant zijde. Die word vastgezet met rvs bouten zodat de planken stevig met elkaar verbonden zijn